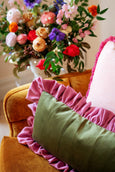 MOLLY (sold out)
$360.00 CAD
Molly is just that girl. She is beautiful, elegant, empathetic and seemingly always in a good mood. You just feel better when you're around her. She has dabbled in various creative fields, but absolutely loves her job as a window dresser at Bergdorfs, where she creates striking vignettes that slow down even the busiest New Yorker. Molly spends much of her time with her friends, excitedly recounting funny stories about her colourful days. Her friends cherish her, and particularly delight in her malapropisms. Some infamous examples include "speed of life" rather than speed of light, "that person has a lot of luggage" when referring to someone's emotional baggage, and they especially love when Molly refers to her bottom teeth as her "downstairs teeth".
Molly's Details 
Dimensions: 25.5 inches x 10 inches (excluding 3 inch ruffle)
Composition: olive green velvet trimmed with a taffy pink cotton/poly ruffle. Metal zipper.
Care Instructions: dry clean only
HAND MADE IN TORONTO                                                                                         
Please note that cushions are sold with a down filler. If you would prefer a hypoallergenic alternative, please get in touch.   
Need help envisioning this cushion in your space? Inquire about our design and styling consultations.