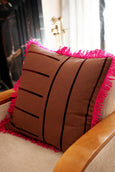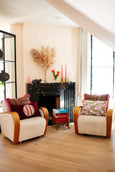 NILES (sale) | WAS $325.00
$166.00 USD
Natty Niles! He's fastidious, fabulous and very elegant. A famed and occasionally temperamental custom suit maker, Niles takes great pride in his craft. His creations are immediately recognized – formal, but never fussy and always unique. His exacting manner translates to other areas of his life – he will only drink clear beverages in fear of spills, he has a standing appointment for a weekly manicure, and he pays all his bills early. And while he may seem too buttoned up, his closest friends know the truth. Niles loves to let loose in his weekly Zumba classes where he is almost always the most uncoordinated participant. He is also a Hitchcock fanatic, holding costumed viewing parties for his friends and fellow fans. The soirees have become infamous in Niles' circle, with the costumes growing ever more elaborate, the martinis consumed mounting in number and the morning after stories becoming increasingly ridiculous. The last two parties have elicited noise complaints from neighbours, but Niles will never admit to that.
Niles' Details 
Dimensions: 22 inches x 22 inches 
Composition: velvet striped mocha linen blend with a plum linen blend reverse and trimmed with hot pink bullion. Metal zipper.
Care Instructions: dry clean only
HAND MADE IN TORONTO                                                                                         
Please note that cushions are sold with a custom made down filler. If you would prefer a hypoallergenic alternative, please get in touch.   
Need help envisioning this cushion in your space? Inquire about our design and styling consultations.