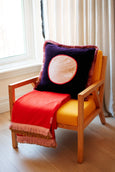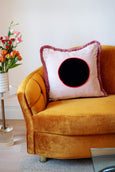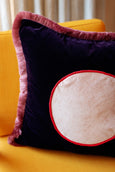 PATRICE (sale) | WAS $325.00
$280.00 CAD
Patrice is a formidable woman. She wears her nails long and her bun tight. After finishing a law degree at the top of her class, she turned down several high profile positions, and instead founded her own PR agency. She spends her days fiercely advocating for her clients – corporations and shamed celebrities alike. When she's not at work Patrice is usually trying her hand at the latest extreme sport, from kite surfing to skydiving and rock climbing. This is not a surprise to those who knew her as a child. It was her dream to be a pilot, but she always knew it wasn't possible owing to her severe colour blindness. 
Patrice's Details 
Dimensions: 22 inches x 22 inches 
Composition: midnight purple velvet, blush chenille velvet with poppy red rope trim, and mauve brush trim. Metal zipper.
Care Instructions: dry clean only
HAND MADE IN TORONTO                                                                                         
Please note that cushions are sold with a custom made down filler. If you would prefer a hypoallergenic alternative, please get in touch.  
Need help envisioning this cushion in your space? Inquire about our design and styling consultations.