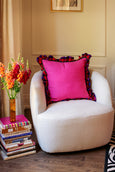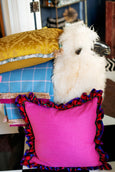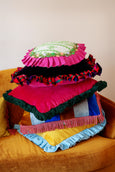 ROBERTA (sale) | WAS $325.00 (sold out)
$220.00 CAD
Roberta is the youngest in her family of seven, and the only girl. She worked hard to keep up with her brothers, and grew in to an athletic, resilient, competitive individual. She excelled at many sports, but especially took to water skiing, competing throughout her teenage years. After various attempts at more traditional careers, Roberta eventually landed her dream job as a waterskiing instructor at an idyllic resort in the Catskills. By day she teaches guests to ski, and at night she performs in the staff show, often closing the evening with her signature number I am Woman by Helen Reddy.
Roberta's Details 
Dimensions: 21.5 inches x 21.5 inches (excluding ruffle)
Composition: raspberry linen front, reverse midnight purple velvet, plaid silk ruffle. Metal zipper.
Care Instructions: dry clean only
HAND MADE IN TORONTO                                                                                         
Please note that cushions are sold with a custom made down filler. If you would prefer a hypoallergenic alternative, please get in touch.   
Need help envisioning this cushion in your space? Inquire about our design and styling consultations.