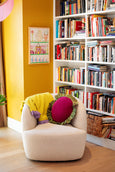 RUBY (sale) | WAS $260.00 (sold out)
$70.00 CAD
Growing up in Montréal sparked Ruby's creativity at an early age. She developed a quirky style that has only become more exaggerated and delightful over time, from her home-sewn clothes to her neon pink hair. Her beloved city also provided early exposure to the art of Cirque du Soleil, and she often tagged along with her parents who were costume designers for the production. She decided then that it would be her career. Ruby trained exhaustively, perfecting every daring skill she could, from suspension training to horseback handstands. Ruby absolutely loves her life with the touring company. She resides happily with three fellow acrobats in a drafty loft in the Mile End that is filled with snow globes from all the places they've performed, as well as their adored flock of pet birds.
Ruby's Details 
Dimensions: 21 inch diameter (including ruffle)
Composition: grape jelly velvet, with pink and white striped cotton reverse, trimmed with an apple green silk ruffle. Metal zipper. (please note: due to the age of the silk, there is some discolouration to the ruffle)   
Care Instructions: dry clean only
HAND MADE IN TORONTO                                                                                         
Please note that cushions are sold with a custom made down filler. If you would prefer a hypoallergenic alternative, please get in touch.   
Need help envisioning this cushion in your space? Inquire about our design and styling consultations.