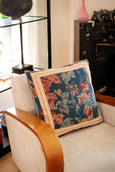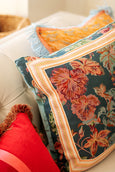 SPENCER (sale) | WAS $325.00
$220.00 CAD
Spencer, a world renowned Scottish botanist, is a quiet and studious gentleman. He is kind and thoughtful, diligent and disciplined. He likes his tea milky, his pencils sharp and his shirts pressed. Spencer is a loyal friend and still meets weekly with his university pals – many fellow botanists – at their favourite pub, Mathers Bar. They inevitably discuss lichens and fungi, ferns and orchids, but somehow talk always turns to their favourite program, Midsomer Murders. They lose themselves in discussions of theories and conspiracies for hours on end, and even hold an annual event where they re-enact their favourite case of the season.
Spencer's Details 
Dimensions: 21 inches x 21 inches
Composition: vintage Robert Allen teal-ground leaf cotton blend (previously unused), with a cerulean blue velvet reverse, wide vintage French ribbon. Metal zipper.
Care Instructions: dry clean only
HAND MADE IN TORONTO                                                                                         
Please note that cushions are sold with a custom made down filler. If you would prefer a hypoallergenic alternative, please get in touch.   
Need help envisioning this cushion in your space? Inquire about our design and styling consultations.