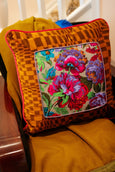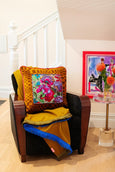 VERONICA (sale) | WAS $325.00
$188.00 USD
Veronica always has a piece of gum in her mouth. It's usually Double Bubble, and she always saves the comic. She's a skilled woodworker – exacting, yet incredibly creative and inventive. Her biggest and most prized project to date has been the restoration of her home, which is a converted church. Veronica delights in the irony of this as she's a staunch agnostic, having spent many bored hours at Sunday school as a child. Her home is warm, welcoming and as colourful as its occupant. Veronica happily resides there with her jolly Tabby, Percival, and whatever nomadic friend is passing through town.
Veronica's Details 
Dimensions: 20 inches x 20 inches
Composition: geometric velvet with a cotton floral inset, mauve/plum rope trim, piped with hot pink velvet. Metal zipper.
Care Instructions: dry clean only
HAND MADE IN TORONTO                                                                                         
Please note that cushions are sold with a custom made down filler. If you would prefer a hypoallergenic alternative, please get in touch.   
Need help envisioning this cushion in your space? Inquire about our design and styling consultations.