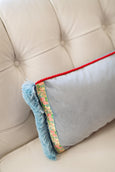 VICTORIA (sold out)
$340.00 CAD
Victoria is quiet, thoughtful, and very generous. She grew up with great privilege, but actually prefers a simpler life, donating both her time and money whenever she has the chance. She loathes any pretence, and appreciates the company of characters, eccentrics and kind hearts. Her grandmother, whom she was named after, lived her life in much the same way, and imparted a sense of joy, an appreciation for art and beauty, and also a sense of responsibility to help others. Victoria leads her life with the principles instilled by her Grandmother. And while she works diligently as a curator – known for her discerning eye and ability to predict the next big splash in the art world – Victoria escapes whenever possible. You can often find her aboard Sandro's yacht, sailing from port to port, rescuing cats and swimming in the sea. Many assume they're a couple, but they prefer to keep people guessing.
Victoria's Details 
Dimensions: 28.5 inches x 10 inches 
Composition: icy blue velvet, vintage French metallic floral ribbon, trimmed with light blue cotton brush and poppy red rope. Metal zipper.
Care Instructions: dry clean only
HAND MADE IN TORONTO                                                                                         
Please note that cushions are sold with a custom made down filler. If you would prefer a hypoallergenic alternative, please get in touch.   
Need help envisioning this cushion in your space? Inquire about our design and styling consultations.